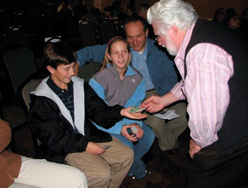 "Thank you so much for the show on Saturday. Not only did the kids love you but the adults had great entertainment as well. We are still talking about it. More parents should invest in artists like you for their children's party".


Simone Romig - Marion

Chris Angel, David Blaine, David Copperfield and the Disney channels are places where kids watch magicians do some pretty cool stuff. Now you can have some of that same magic, live and without camera tricks at your next party or special event?

John Henry will bring his magic, comedy and laughter to your home, hall, church, temple or place of business with an awesome magic show that everyone will be talking about. Guaranteed.



"You kept the kids attention and were very comical, even for the adults. Kid's loved it! I would highly recommend you."


Danielle Logiudice

From close-up and strolling magic to a full stage show John Henry's interactive magic and optional balloon animals will engage and astound children, teenagers and adults.

"Thank you very much for a terrific magic show for my daughter Danielle's party. It was the best magic show I have ever seen. You had everyone captivated from my youngest daughter to my father! Thank you!!! "
Jennie Shaw

A great choice for: Birthday Parties Family Reunions First Communions Bar/Bat Mitzvahs Graduations Banquets Festivals Holiday Parties Fundraisers Grand Openings Community Events Company Events Youth Programs

John Henry offers Magic (Close-up, Walk Around, Platform & Stage) Balloon Sculpting, Magic Workshops, Balloon Workshops, and Magic Supplies & Tricks.

"Everyone enjoyed the show and I would refer John Henry to any other police or fire department needing entertainment."
Steve Monahan, Fire Department- Holbrook

Please Contact Me for pricing and availability.